The arrival of spring after an unusually wet winter brings with it a wonder.
Several mecca for flower tourism, including Lake Elsinore with the yellow poppies, has been so damaged by crowds that visitors have been warned to stay away this year.
On the other hand, some naturalists think that closing parks to visitors would defeat their purpose: to encourage connection between residents and wildlife and encourage conservation.
After something unprecedented series of winter stormsOutdoor enthusiasts are expecting an unprecedented abundance of flowers.
There is no scientific definition for What makes a masterpiece?Daniel Winkler, a research ecologist with the US Geological Survey, Southwest Center for Biological Sciences, told The Times.
"The bloom is really a cultural phenomenon, where people decide that there are enough flowers here, right now, and we'll call it a bloom," Winkler said.
Joan Dudney, assistant professor in the department of environmental studies at UC Santa Barbara, ventured across California to witness the amazing boom.
"As a naturist, it's hard to enjoy places that are flooded with tourists, Instagram models and people who aren't used to going out in these places," Dudney said, adding that tourists visitors too often "go out there to see the spectacle" and "haven't developed a connection with these natural spaces."
As a first step for those looking for a deeper connection to the flora they see, she recommends downloading the Seek app by iNaturalistplant species can be identified.
California Department of Parks and Recreation recommends seven locations in Southern California where visitors can see the flowers that have bloomed and in many cases are expected to continue for about a month. They are sorted by distance from downtown Los Angeles.
Chino Hills State Park: Visitors should look for flowers along the nearby Bane Road and Bane Ridge Trail at this park, the closest park to Los Angeles on our list. "This year, flowers in bloom include canterbury and school bells, arroyo lupines and California poppies," the park department said. 35 miles from downtown LA
California Opium Reserve in Antelope Valley: Located on the west side of Lancaster, this hillside is home to Cam poppy. "The hillsides at the Poppy Reserve are starting to show brilliant pinks from the poppies and vibrant yellows from the vast golden fields," the park department said, and more poppies are expected. will bloom in the coming weeks. Best spots: Antelope Trail North Loop and Kitanemuk Vista Point. 70 miles from downtown LA
Kern County Eastern State Vehicle Recreation Area Onyx Ranch: Located on the east side of Bakersfield. Over the next month, Jawbone Gorge will continue to bloom, with "bright yellow Lacy Phacelia lavender and desert dandelions," according to the park department. 120 miles from downtown LA
Red Rock Canyon State Park: Also east of Bakersfield, the park's Hagen Canyon, Iron Canyon — which encourages four-wheel drive — and the area around the visitor center will be in full bloom for another month. According to the park department, flowers include "desert dandelion, blue chrysanthemum, desert or wild parsley and red maid," as well as blooming Joshua and bladderwrack. 120 miles from downtown LA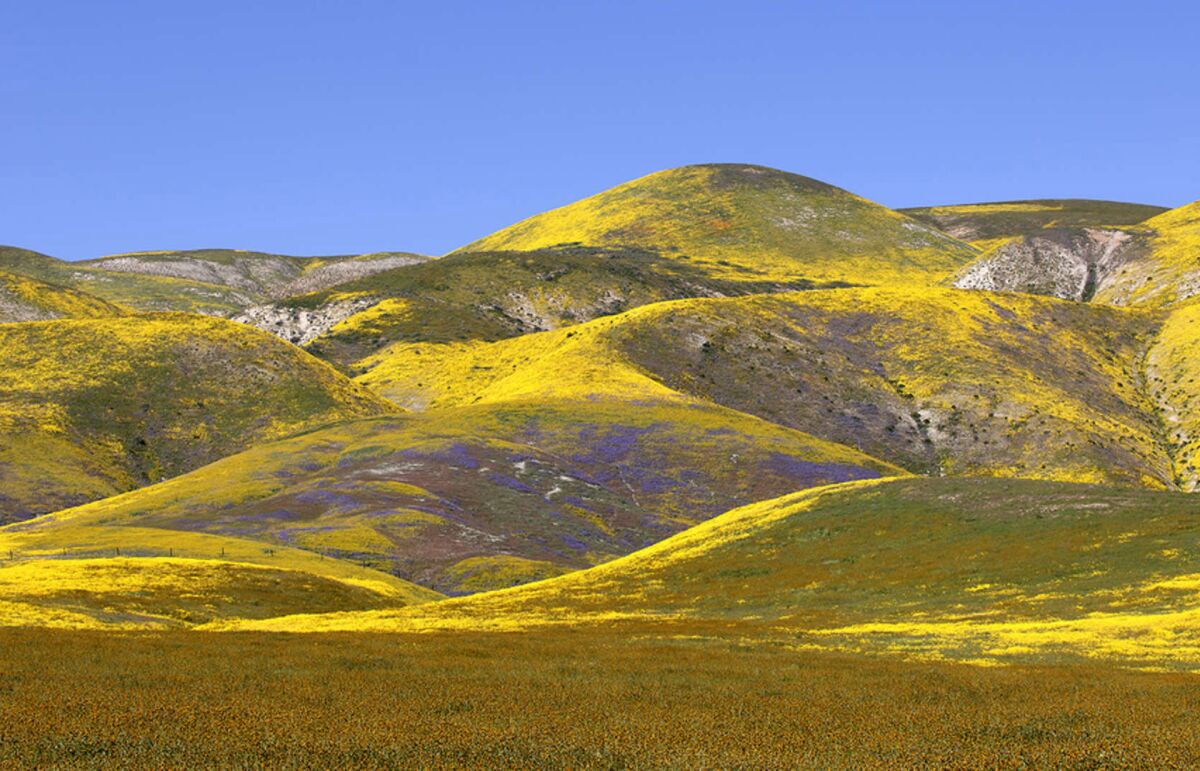 Tule Elk State Nature Reserve: Southwest of Bakersfield, the nature reserve now has "large fields of gold and glitter in bloom," the park department said. The elk there are also growing antlers. 125 miles from downtown LA
Anza-Borrego . Desert State Park: Located between San Diego and the Salton Sea, Anza-Borrego is the largest state park in California. "Visitors can see residual sand verbena and desert sunflowers along the east side of Henderson Canyon Road at the north end of the park and sand verbena at June Wash along the S2 at the southern end. of the park," according to the Ministry of Parks and Recreation. 150 miles from downtown LA
Colonel Allensworth State Historic Park: The golden fields at this park are in full bloom and could last for another month, according to the park department. The park is located northwest of Bakersfield. 160 miles from downtown LA
Times staff writer Nathan Solis contributed to this report.