A whopping 1.31 million people found new formal jobs in India in the 23rd fiscal year, up to February. This marks an 18.2% increase in formal job creation, compared to the same period in fiscal 2022. This is according to an analysis of payroll data by the Employee Provident Fund.
Of the 1.31 million people, just over 20% are women. While 27.28 lakh out of 1.31 crore are women, 99.52 lakh are men.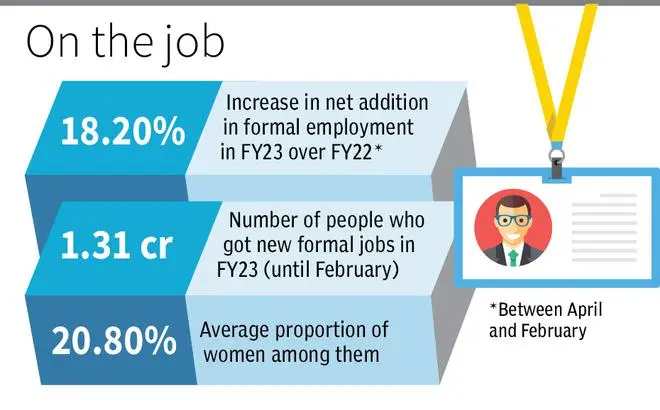 However, a closer look at the data reveals something positive. A comparison of figures from the corresponding period in fiscal year 22 — April 2021 to February 2022 — shows a spike in the share of women entering the formal workforce. From April 2021 to February 2022, 23.5 thousand women entered the formal labor force. However, in fiscal year 23 (to February), the number of women in new formal employment increased by 15.7% year-on-year. The increase was 13.5 percent lower in the case of men.
Going back five years, in fiscal year 2019, only 13.05 thousand women entered the formal workforce. This was up 22% in FY20. Although it was down 12.3% in FY21, when the pandemic hit, FY22 saw an 87.3% increase. , with numbers much higher than pre-pandemic figures.
For men, the number of people finding formal work increased 29% in 2020. Even in fiscal year 21, the increase was meager 0.63%. In fiscal year 22, it grew by 52.35%.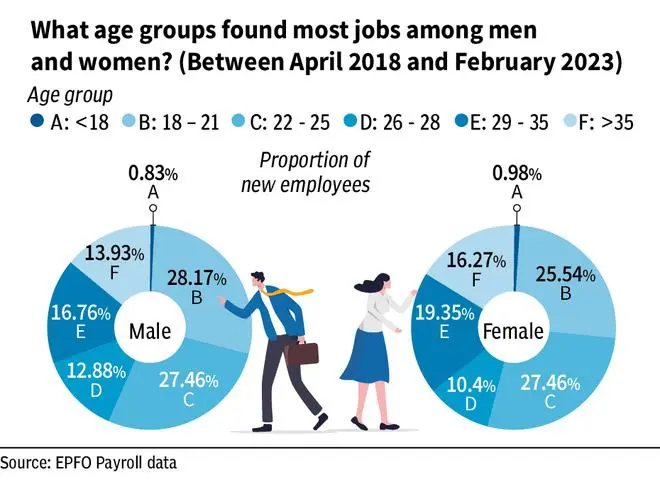 New young faces

Of all those who got a new formal job between April 2018 and February 2022, the majority were between the ages of 18 and 25. This represents about 53% of all new EPFO ​​applicants. However, the percentage of new registrants over the age of 35 is very low at 15%.
The trend remains the same between the sexes. Of all women entering the formal labor force during this period, 53% were between the ages of 18 and 25. Among men, the proportion was slightly higher, at 56%. While the proportion of women over 35 years old is 16.3%, it is 14% for men.