The recently concluded Karnataka Council elections have seen some interesting family battles.
Brothers are determined to avenge each other; a father and son win from different parties; three brothers competed and only one winner; sister-in-law pitted against brother-in-law; a BJP congressman is sitting watching his son get elected to Congress… The polls are almost like an extended family affair.
It's all relative

Belagavi district, the district with the most seats after Bengaluru, saw the dominance of the Jarkiholi brothers. Ramesh Jarkiholi, with BJP ticket, won from Gokak constituency and his brother Satish, working president of Parliament, won Yemkanmardi seat.
The third brother Balachandra, president of the Karnataka Dairy Federation, has returned from Arabhavi. Another member of the family, Lakhan, is already an independent MLC.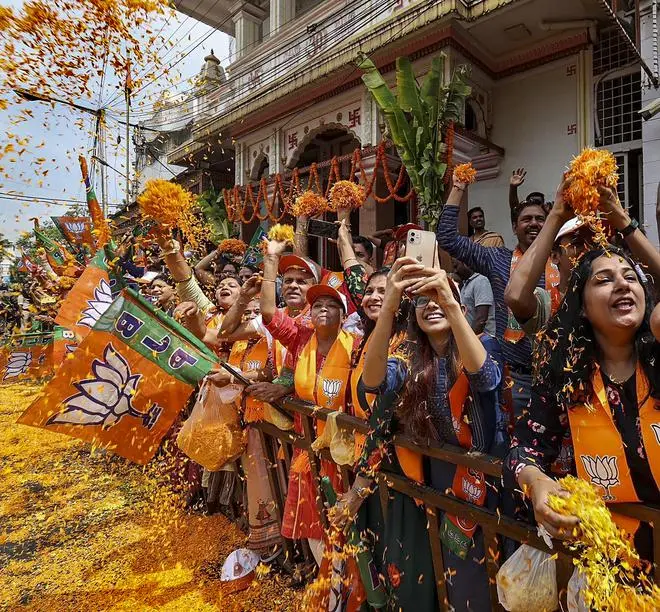 BJP supporters gather at a road show ahead of Parliament elections in Bengaluru | Image credit: PTI / File photo

Janata Dal (S), the regional party of former Prime Minister HD Devegowda, has three family members – Devegowda's sons HD Kumaraswamy (HDK) and HR Revanna, and grandson Nikhil.
While HDK won from Channapatna's chair, the backseat took Holenarsipura. However, HDK's son Nikhil, who had disputed from the Ramanagara family fortress – held by his mother Anitha in the outgoing Parliament – lost by a huge margin.
The other prominent political family in Karnataka are the Reddys.
While four members of its family participated in the fray, only Gali Janardhana Reddy won, from Gangavati with the ticket of his outfit – Kalyana Rajya Pragati Party (KRPP). His brother Gali Somashekar Reddy and his wife Aruna Lakshmi faced off in Bellary on BJP and KRPP tickets respectively. But that fight only helped Nara Bharath Reddy of the Congress.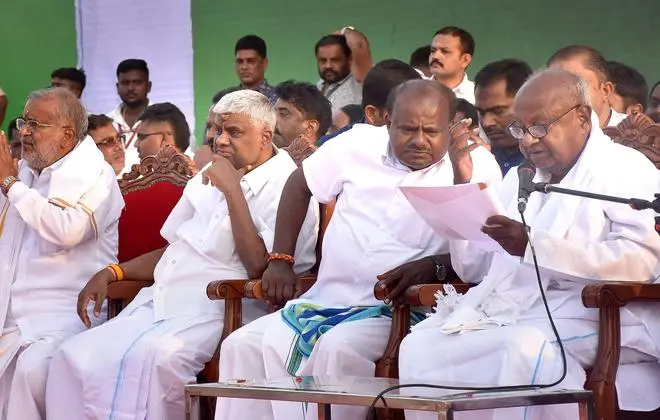 Former Prime Minister HD Devegowda (right) with his sons HD Kumaraswamy and HD Revanna | Image credit: SRIRAM MA

Another brother, G Karunakara Reddy, BJP contestant in Harapanahalli lost to MP independent candidate Latha Mallikarjun, daughter of former Janata Parivar leader Prakash.
The father-son duo — Ramlinga Reddy and Soumya Reddy — both competed for tickets to the Games. While the father won by a margin of BTM in Bengaluru, Soumya lost in the neighboring Jayanagar constituency with a mere 16 votes.
The other father-son duo are former Union Minister KH Muniyappa and Roopkala Sashidhar. Both won tickets to the Games from Devanahalli (SC) and Kolar Gold Field (SC), respectively.
Father-son duo Shamnur Shivashankarappa, 91, and his son SS Mallikarjun, both went home with tickets to the Games. While the former won in Davangere South, Mallikarjun was elected from Davangere North.
The other father-son duo is M Krishnappa and Priya Krishna – both won from Vijayanagar and Govindraj Nagar constituencies respectively for tickets to the Games.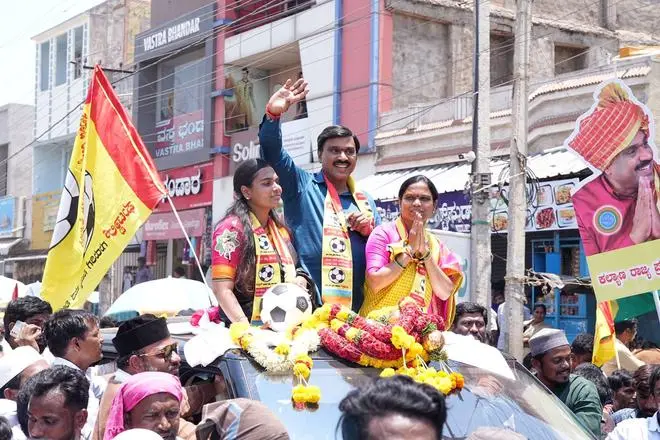 Gali Janardhan Reddy at a large procession before submitting his nomination papers at Gangavathi in Koppal district | Image credit: SPECIAL ORDER

Interestingly, BJP congressman BN Bache Gowda gave his son Sharath Kumar Bachegowda a ticket to the National Assembly to run for office. He won from the Hoskote constituency.
The uncle-grandson combination was quite a failure this time around as B Sriramulu and his nephew TH Suresh Babu both lost in the Bellary and Kampli constituencies.
The Bangarappa brothers – son of former CM S Bangarappa – Kumar (BJP) and Madhu (Parliament) fought each other in Sorab, Shivamogga district, where Madhu won.
The next generation

The election also saw the sons of many veterans carry on the legacy.
Avinash Jadhav, son of MP Umesh Jadhav, won the BJP ticket from Chincholi; Priyank Kharge, son of AICC president Mallikarjun Kharge, was returned from Chittapur on Parliament ticket; and Nikhil Katti, son of late politician Umesh Katti, went home to his father's Hukkeri field on BJP tickets.
Similarly, BY Vijeyendra, son of BS Yediyurappa, BJP strongman, won in his family's Shikaripura fortress, and HK Patil, son of Congress staunch KH Patil won in Gadag thanks to the ticket to the Congress. In addition, Nayana Motamma, daughter of KPCC Vice President Motamma, won against Mudigere.
Political analyst Rajendra Chenni said: "The prominent reason why politicians always push lawsuits for their family members is that no one wants to give up power and the means of making money that come with it. , and this pattern is not going to end anytime soon."